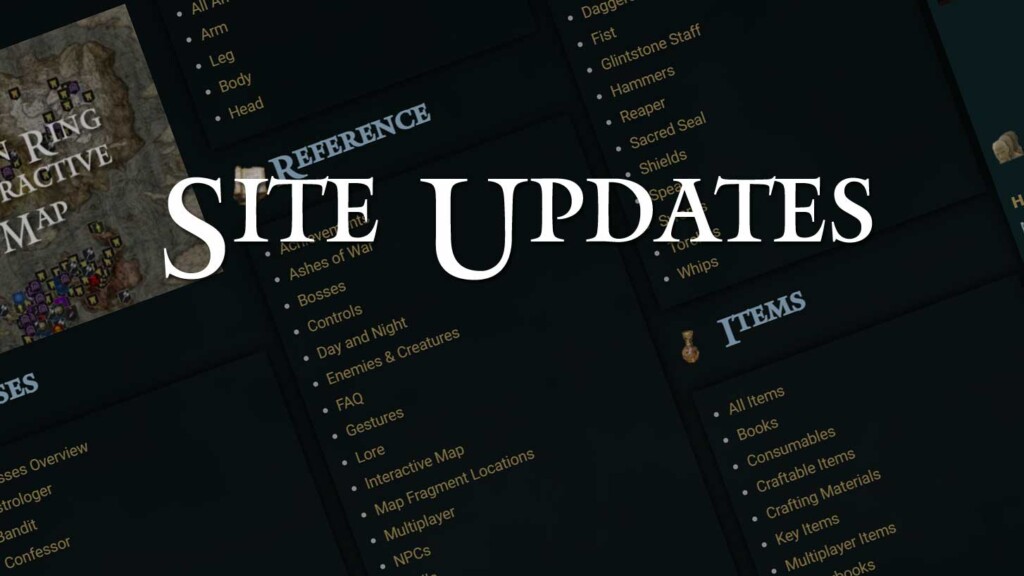 For the past week, we have been adding a lot to PureEldenRing and it's been a mammoth task but the good news is we have reached the end of structuring the game data.
This week we have added the following:
PureEldenRing Updates List
All Weapons
All Weapon Upgrades
All Items
All Armor
All Consumables
All Crafting Materials
All Upgrade Materials
All Skills
All Talisman
All Books
All Spells
Simply put, all game data/stats is now available.
Improved Search (still being added to)
Improved Weapon Pages
Improved Weapon and Armor lists
Improved map coming by end of the weekend.
As well as the content going up on the site Scott (Nickname) has been working on videos that have been added to the Youtube channel. These videos are also added to specific item pages and map objects and more will be added.
Although all the above is now up to speed, there's still a lot to do. Scott finished the game a week or so ago while I still have to crack on with it and continue my journey. The site stuff has taken up a lot of time since the game launched.
Also, some of you may have noticed the "Get the in-game app" button on the front of the site. This is our Overwolf App which you can use in-game to check anything you want that is on the site. All the content on the site is also available in the app so if you don't want to leave the game you can pop it up or it's useful to have on a second monitor if you prefer.
When updates are pushed live on the site, the app is also updated with the changes.
Finally, Scott and I want to thank all the visitors that have checked the site out or are using the app. We've had some great feedback so far and we hope you keep that coming. We listen to all suggestions and try and improve the site as much as we can for the community. Also, a big thanks to Phil on Discord for all his help over the past couple of weeks.
As soon as we have further substantial updates on the site we'll fire up another update post like this one.
– The PureEldenRing Team