The ESRB has finally slapped a rating on Elden Ring ahead of February's launch. According to the ESRB page and the rating summary is as follows:
This is an action role-playing game in which players assume the role of a character trying to retrieve a magical ring and become the Elden Lord. From a third-person perspective, players explore environments, collect items, and battle various enemies (e.g., knights, fantastical creatures) in melee combat. Players use swords, spears, axes, arrows, and magic to enemies; combat is highlighted by cries of pain, splatters of blood, and impact sounds. The game includes depictions of gore: collectible items that include severed fingers and tongues; a boss character cutting off its arm; severed arms hanging from a ceiling. During the course of the game, a humanoid monster is depicted partially nude, with scales/scars covering its breast and pelvic regions. The word "sh*t" appears in the dialogue.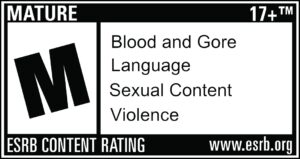 The game has been rated 17+ with the following warnings.
Blood and Gore
Language
Suggestive Themes
Violence